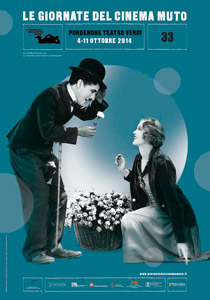 33RD PORDENONE SILENT FILM FESTIVAL, 4-11 OCT. 2014

PROGRAMMA/FESTIVAL FEATURES

EVENTI SPECIALI/SPECIAL EVENTS
- 04.10.2014 | 20.30 | Teatro Verdi | Evento di apertura/Opening event
WHEN A MAN LOVES (dir. Alan Crosland, cast: John Barrymore, Dolores Costello;
mus: Vitaphone score; Warner Brothers Pictures, US 1927)
- 05.10.2014 | 16.00 | Teatro Verdi | A colpi di note/Striking a New Note
THE IMMIGRANT (Charles Chaplin, Lone Star Corp., Mutual, US 1917)
mus: Orchestra Scuola Media "Centro Storico" di Pordenone
THE BOAT (Buster Keaton, Comique Film Corp., US 1921)
mus: Orchestra Scuola Media "Leonardo da Vinci" di Cordenons

- 05.10.2014 | 20.30 | Teatro Verdi | Technicolor
BEN-HUR: A TALE OF THE CHRIST (dir. Fred Niblo; M-G-M, US 1925)
Restauro/Restored: 1987, Photoplay Productions
in partnership with Turner Entertainment.
Accompagnamento musicale: partitura orchestrale di Carl Davis pre-registrata.
Musical accompaniment: Hi-Fi presentation of the 1987 score by Carl Davis

- 06.10.2014 | 20.30 | Teatro Verdi
AIRSC 50

- 07.10.2014 | 20.30 | Teatro Verdi
Ichiro Kataoka, Benshi
KENKA YASUBEI [L'irascibile Yasubei/Hot-tempered Yasubei] (JP 1928)
Chaplin 1914
KID AUTO RACES AT VENICE
HIS NEW PROFESSION (US 1914)
THE NEW JANITOR (US 1914)
DOUGH AND DYNAMITE (US 1914)

- 08.10.2014 | 18.00 | Teatro Verdi | Il canone rivisitato/The Canon Revisited
DIE NIBELUNGEN (I. SIEGFRIED + II. KRIEMHILDS RACHE) (dir: Fritz Lang, 1924)
Accompagnamento musicale di/Musical accompaniment by
Maud Nelissen (pianoforte)
Frank Bockius (percussioni/percussions)
Elizabeth-Jane Baldry (arpa/harp)
Romano Todesco (contrabbasso/double bass, fisarmonica/accordeon)
- 11.10.2014 | 20.30 | Teatro Verdi | Evento di chiusura/Closing event
- 12.10.2014 | 16.00 | Teatro Verdi | Replica/Repeat Show
CITY LIGHTS (Charles Chaplin, 1930)
Partitura di/Score by Charles Chaplin diretta da/conducted by
Günter A. Buchwald; esegue/performed by Orchestra San Marco, Pordenone
(Spettacolo domenicale/Sunday show: biglietteria Verdi: 0434-247624)


THE BARRYMORES
The Drews
- WHEN TWO HEARTS ARE WON (Kalem – US 1911)
- THE MASTER PAINTER (Vitagraph – US 1913)
- THE FEUDISTS (Vitagraph – US 1913)
- GOODNESS GRACIOUS; OR, MOVIES AS THEY SHOULDN'T BE (Vitagraph - US 1914)
- BOOBLEY'S BABY (Vitagraph – US 1915)
- A CASE OF EUGENICS (Vitagraph – US 1915)
- HER ANNIVERSARIES (Metro Pictures – US 1917)
Ethel Barrymore
- THE AWAKENING OF HELENA RICHIE (Rolfe Photoplays, US 1916 - fragment)
- THE WHITE RAVEN (Rolfe Photoplays, US 1917)
- THE CALL OF HER PEOPLE (Columbia Pictures, US 1917)

John Barrymore
- THE INCORRIGIBLE DUKANE (Famous Players Film Co., US 1915)
- DR. JEKYLL AND MR. HYDE (dir. John S. Robertson, US 1920)
- BEAU BRUMMEL (dir. Harry Beaumont, US 1924)
- WHEN A MAN LOVES (dir. Alan Crosland, US 1927)
- THE BELOVED ROGUE (dir. Alan Crosland, US 1927)

Lionel Barrymore
- THE STRONG MAN'S BURDEN (Biograph, US 1913
- THE COPPERHEAD (dir: Charles Maigne, US 1920)
- THE ETERNAL CITY (dir: George Fitzmaurice, US 1923 - fragment)
- JIM THE PENMAN (dir: Kenneth Webb, US 1921)
- THE BELLS (dir: James Young, US 1926)
THE DAWN OF TECHNICOLOR
Prog. 1: Color in the 1920s - Colorful Sensations
- [BITS & PIECES 275 - A PRISM] ( DE, c. 1930)
- ROMAN CANDLES (estratto/excerpt) (Master Pictures – US 1920)
- FIGHTING THE FLAMES (estratto/excerpt) (Columbia Pictures Corp. – US 1925)
- KO-KO CELEBRATES THE FOURTH (Red Seal – US 1925)
- HONEYMOON HEAVEN (Sering D. Wilson & Co. Inc. – US 1925)
- COLORING THE STARS: NUMBER FOUR (Joseph B. Harris – US 1926)
- LE HOME MODERNE (Pathé-Cinéma – FR 1929)
- ÉTUDES DE LUMIÈRES (Audibert – FR 1923)
- L'APPARITION (FR? DE?, c.1920)
- CHANGING HUES (The London Press Exchange – GB 1922)
- MOOISTE WAAIERS TER WERELD [The Most Beautiful Fans in the World] (FR 1927)
- COLORFUL FASHIONS FROM PARIS (The McCall Company – US 1926)
- KELLER-DORIAN: FILM GAUFRÉ: SONIA DELAUNAY (FR 1925)
- KLEUR – EN VORMAFSWISSELING OP "CHOO-CHOO" JAZZ
[Alternation of Color and Shape on "Choo-Choo" Jazz] (Studio Joris Ivens – NL 1932)
- MARRIED IN HOLLYWOOD (estratto/excerpt) (Fox Film Corporation – US 1929)

Prog. 2
Il colore negli anni Venti – Avventure a colori
Color in the 1920s - Colorful Adventures
- "ON THE TREK" INTO SWAZILAND, SOUTH AFRICA (Prizma – US 1920)
- GEKLEURDE KIJKJES UIT DE GEHEELE WERELD [Colored Views from the
Entire World] (Pathé – FR, 1913-1929)
- THE GLORIOUS ADVENTURE (J. Stuart Blackton Photoplays – GB 1922)
Prog. 3
The Early Years and Experimenting with Inserts
Prog. 4
I rapporti con la M-G-M si intensificano
Strengthening Connections with M-G-M
BEN-HUR: A TALE OF THE CHRIST (dir. Fred Niblo; M-G-M., US 1925)
Restauro/Restored: 1987, Photoplay Productions in collaborazione con/in partnership with Turner Entertainment.
Accompagnamento musicale: partitura orchestrale di Carl Davis pre-registrata.
Musical accompaniment: Hi-Fi presentation of the 1987 score by Carl Davis.
Prog. 5: Douglas Fairbanks Champions Technicolor
Prog. 6: The Coming of Sound


RISATE RUSSE/RUSSIAN LAUGHTER - 1
- ODIN NASLADILSIA, DRUGOY RASPLATILSIA
[L'uno si diverte, l'altro paga / One Plays – The Other Pays]
(dir: Yakov Protazanov, 1913)
- GORNICHNAYA DHZENNI [La cameriera Jenny/Chambermaid Jenny]
(dir: Yakov Protazanov, 1918)
- ZAKROISHCHIK IZ TORZHKA [Il sarto di Toržok/The Tailor from Torzhok]
(dir: Yakov Protazanov, 1925)
- PROTSESS O TREKH MILLIONAKH
[Il processo di tre milioni / The Trial Concerning Three Million]
(dir: Yakov Protazanov, 1926)
- DON DIEGO I PELAGEYA (Delo Pelagei Diominoy)
[Don Diego e Pelagia / Don Diego and Pelageya]
(dir: Yakov Protazanov, 1928)
- CHINY I LIUDI (Chekhovskii Almanakh)
[Cariche e uomini/Ranks and People] [Almanacco di Checov/A Chekhov Almanac]
(dir: Yakov Protazanov, 1929)
- PRAZDNIK SVIATOGO YORGEN [The Feast of Saint Yorgen]
(dir: Yakov Protazanov, 1930; sd. vers. 1935)


CINEMA GIAPPONESE/EARLY JAPANESE CINEMA
Tesori della collezione filmica del Museo del Teatro dell'Università di Waseda
Treasures from the Tsubouchi Memorial Theatre Museum, Waseda University

IL CANONE RIVISITATO/THE CANON REVISITED - 6
- REGENERATION (dir: Raoul Walsh, 1915)
- HERR ARNES PENGAR (dir: Mauritz Stiller, 1919)
- DIE LIEBE DER JEANNE NEY (dir: G.W. Pabst, 1927)
- DIE NIBELUNGEN I: SIEGFRIED (dir: Fritz Lang, 1924)
- DIE NIBELUNGEN II: KRIEMHILDS RACHE (dir: Fritz Lang, 1924)
- POTOMOK CHINGISKHANA (Tempeste sull'Asia/Storm over Asia)
(dir: Vsevolod Pudovkin, 1928)


CINEMA DELLE ORIGINI/EARLY CINEMA
Paul Nadar
Georges Méliès
Frank Ormiston-Smith
Edwardian Entertainment
Tonbilder

1914 - 2014
- GOLGOTA SRBIJE – POŽAR NA BALKANU [Il Golgota serbo – Fuoco nei Balcani
The Serbian Golgotha – Fire in the Balkans] (Artistik Film, Beograd – YU 1930)

MULTAGITPROP: L'ANIMAZIONE UCRAINA/UKRAINIAN ANIMATION
- DNIPRELSTAN [La centrale idrolettrica del Dnipro/Dnieper Electric Station]
(1927)
- PRODANYI APETYT [L'appetito venduto/The Sold Appetite] (1927) (trailer)
- ODYNADTSYATYI [L'undicesimo / The Eleventh] (1928) (trailer)
- POZYKA NA INDUSTRIALIZATSIYU [Prestiti per l'industrializzazione/
Industrialization Loan] (1928)
- KAZKA PRO ZAHALNE ROZZBROYENNIA [Storia del disarmo generale/
A Tale of General Disarmament] (1929)
- PROHULNYK [L'assenteista/The Absentee] (1929)
- BEREZHIT' PAPIR [Salviamola carta / Save Paper] (1930)
- PALATS MYSTETSTV SSSR [Il Palazzo dell'Arte sovietico / The USSR Palace of Art] (1930)

RISCOPERTE E RESTAURI/REDISCOVERIES & RESTORATIONS
- DAS FRAUENHAUS VON RIO
- THE GOOD BAD MAN; LADY HAMILTON
- THE LAST EDITION
- DIE MACHT DER FINSTERNIS
- THE MOVEMENT OF CLOUDS AROUND MT. FUJI
- PAN
- PAN SI DONG
- PANZERKREUZER POTEMKIN
- OI PERIPETEIAI TOU VILLAR
- THE STAR OF THE SIDE SHOW
- SYNTHETIC SIN
- WHOOZIT
The Haghefilm/Selznick Fellowship 2014
Cinema italiano
Al volante / Driven! The Desmet Automobile Show

RITRATTI/PORTRAITS
- V POISKAH UTRACHENNOI "POCHTY" (Searching for "Pochta") (RU 2014)
- THE THANHOUSER STUDIO AND THE BIRTH OF AMERICAN CINEMA (US 2014)