26.08.15
La griglia definitiva del programma 2015 sarà pubblicata a breve.
The final 2015 programme schedule will soon be posted here.
---

Il fantasma dell'opera, "pietra miliare sul cammino della cinematografia verso la perfezione", come scriveva nel 1927 la Rivista Cinematografica, è l'evento orchestrale di chiusura delle Giornate 2015, la sera di sabato 10 ottobre (con replica nel pomeriggio di domenica 11). Il film sarà presentato nell'edizione restaurata a colori da Photoplay con la partitura di Carl Davis eseguita dall'Orchestra San Marco di Pordenone diretta da Mark Fitz-Gerald.
The orchestral closing event of this year's Giornate will be The Phantom of the Opera (1925) starring Lon Chaney. Photoplay's elaborately restored print of the film features the original tints, Technicolor, and a recreation of the Handschiegel colour for the scene on the roof of the opera. The score by Carl Davis will be performed by the local Orchestra San Marco conducted by Mark Fitz-Gerald.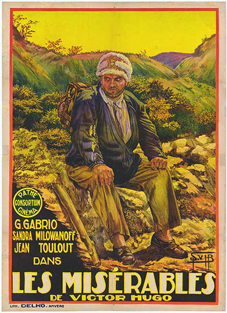 I miserabili, il monumentale film del 1925 di Henri Fescourt restaurato dalla Cinémathèque de Toulouse con il Centre National du Cinéma et de l'Image Animée (CNC) e con la Fondation Seydoux-Pathé e presentato in anteprima mondiale a Tolosa lo scorso dicembre, sarà uno degli eventi clou delle Giornate 2015.

One of the main events of the 2015 Pordenone Silent Film Festival will be the presentation of the complete restored version of Henri Fescourt celebrated epic, Les Misérables (1925). The restoration was carried out by la Cinémathèque de Toulouse with CNC (Centre National du Cinéma et de l'Image Animée) in collaboration with the Fondation Seydoux-Pathé.
---

Le Giornate del Cinema Muto 2014

- Calendario/Daily Schedule 2014
- Flyer serate 2014
- CatalogoPLUS/CataloguePLUS (+appendici/appendixes)

The 33rd Pordenone Silent Film Festival is dedicated to
PETER VON BAGH (1943-2014)
"We are the last generation which could know everything"