Sono qui elencate, suddivise per decennio, le pubblicazioni edite dalla Cineteca del Friuli e dalle Giornate del Cinema Muto, oltre a quelle uscite a cura di altre istituzioni in occasione del festival. / Listed here, chronologically by decade, are the books published by the Cineteca del Friuli and the Giornate del Cinema Muto, plus publications by other institutions issued in conjunction with the festival.

---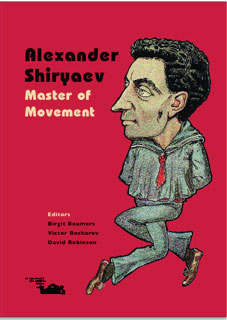 ALEXANDER SHIRYAEV, MASTER OF MOVEMENT
Editors: Birgit Beumers, Victor Bocharov, David Robinson
Le Giornate del Cinema Muto (available from 3 Oct. 2009)
ISBN 978-888615526-7
24 x 17 cm; 176 p., ill. In English.
Paperback. EUR 24,00 (+ handling and shipping charges)

[Presentazione in italiano]

The discovery of the films of Alexander Shiryaev, a century after they were made, is a revelation for historians of film and ballet alike.
Shiryaev (1867-1941) was a highly regarded figure in the Imperial Russian Ballet of the Mariinsky Theatre, St. Petersburg, as dancer, maître de ballet, and teacher. He trained, and later danced with Anna Pavlova, and prepared the 12-year-old Vaslav Nijinsky for his first stage appearance. After the Revolution of 1917, his teaching was influential on the development of Soviet ballet (his pupils included Yuri Grigorovich and Galina Ulanova).
Shiryaev saw cinema as an ideal instrument for recording choreography. He acquired a 17.5mm camera, and his films of dances from the Mariinsky repertoire represent a unique contemporary record of that great era of ballet. Even more remarkably, working alone and in isolation, he invented and developed techniques of animation incomparably in advance of film techniques of his times, and which still astonish professional animators with their skill and perfection. Yet Shiryaev never sought to show his films, which remained unseen and unknown until the 21st century.
This book presents the first historical studies of Shiryaev's intricately connected work in ballet and film and an account of the rediscovery of the films, along with first-hand personal recollections about the artist. The volume also includes the first English-language publication of Shiryaev's own memoirs.


Contents/Sommario (pdf, 36 KB)

Alexander Shiryaev (1867-1941), danzatore, maître de ballet e insegnante, fu una personalità di spicco del Balletto Imperiale Russo di San Pietroburgo. Danzò con Anna Pavlova e preparò al debutto scenico il dodicenne Vaslav Nijinsky. Dopo la rivoluzione del 1917 contribuì allo sviluppo del balletto sovietico insegnando fra gli altri a Yuri Grigorovich e Galina Ulanova.
Shiryaev considerava il cinema come il mezzo ideale per documentare il lavoro del coreografo. Acquistata una cinepresa 17,5 mm, fra il 1906 e il 1909 filmò i balletti del Teatro Mariinsky lasciandoci un corpus di pellicole che costituiscono un'eccezionale testimonianza d'epoca. Pioniere solitario, egli sperimentò tecniche di animazione ancor oggi stupefacenti per maestria e perfezione. Eppure per un secolo i film da lui realizzati sono stati completamente ignorati. Acquisiti nel 1995 da Victor Bocharov che li ha riuniti nel documentario del 2004 A Belated Premiere, nel 2008 sono stati proiettati tutti alle Giornate del Cinema Muto. Questo libro, curato in prima persona dal direttore del festival David Robinson, unitamente a Bocharov e alla russista Birgit Beumers, è complementare alla retrospettiva pordenonese e propone, oltre a saggi e ricordi, anche la prima traduzione in inglese delle memorie dell'artista: rimaste inedite per decenni e pubblicate in russo pochi anni fa, sono un raro documento sul mondo del balletto imperiale all'inizio del '900.