Quella che, retrospettivamente, è la prima edizione delle Giornate del Cinema Muto si tenne dal 9 all'11 settembre 1982, quando Cinemazero presentò presso l'Aula Magna del Centro Studi di Pordenone la collezione di film di Max Linder della Cineteca del Friuli. Intitolata "Le roi du rire: alle origini del cinema comico", doveva trattarsi di una rassegna una tantum. Ma fra i meno di dieci ospiti provenienti da fuori regione c'era il decano degli storici italiani di cinema, Davide Turconi, che mentre eravamo tutti insieme a tavola ci disse, come se fosse la cosa più naturale al mondo: "Bene, il prossimo anno facciamo Mack Sennett". E noi, del tutto naturalmente, accettammo. Davide (classe 1911) è stato direttore delle Giornate fino al 1989, continuando a far parte del consiglio direttivo fino al 1998. Dal 1999 al 2005, anno della sua morte, è stato presidente onorario del festival. A partire dall'edizione del 1997 le Giornate sono state dirette per 19 anni con incredibile energia e passione dal critico e storico cinematografico inglese David Robinson (classe 1930). Nel 2016 è diventato direttore del festival il critico di Variety Jay Weissberg (classe 1965), legato a David, ora direttore emerito, da un pluriennale rapporto personale di stima e amicizia.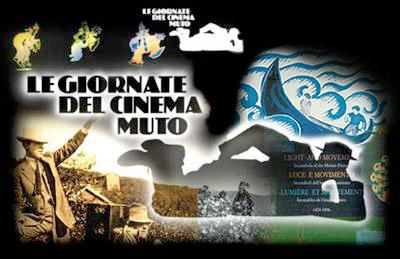 Though it was not to acquire its definitive name and identity until the following year, the Giornate del Cinema Muto can date its first edition to 9 to 11 September 1982, when Cinemazero presented the Cineteca del Friuli's collection of the films of Max Linder, in the theatre of the Centro Studi di Pordenone. With the title "Le roi du rire: the origins of comic cinema", it might have come and gone as a one-off event. But among the less than ten guests from outside the region, there was the dean of Italian film historians, Davide Turconi. As we sat all together at table, he said, as if it were the most natural thing in the world, "Fine. Next year we will do Mack Sennett." And we, quite naturally, concurred.
Davide Turconi (born 1911) was director of the Giornate until 1989, and remained a member of the festival board until 1998. From 1999 until his death in 2005 he was Honorary President of the festival. Starting with the 1997 edition the festival was directed for 19 years with incredible energy and passion by the noted English cinema critic and historian David Robinson (born 1930). In 2016 Variety critic Jay Weissberg (born 1965) became director of the festival, with David Robinson as Director Emeritus, thus ensuring the festival's longstanding tradition of personal continuity; they enjoy a mutual rapport of esteem and friendship.