Richard Williams (2010)
Le Giornate - Estratto dalla sigla di / Excerpt from the trailer by Richard Williams
(Copyright: Richard Williams)
La sigla creata dal premio Oscar Richard Williams per le Giornate (che egli frequenta dal 2003) è realizzata con la tecnica tradizionale - un disegno su carta per fotogramma (niente rodovetri, niente computer). Il logo è stato presentato il 13.6.2011 all'Academy nell'ambito della rassegna "Summer of Silents" prima del lungometraggio di Frank Borzage Humoresque.
The trailer is a small monument of traditional animation: Richard Williams has gone back to the technique of 1905, with every frame a drawing on paper (no cels, no computers). On June 13 the logo was shown at the Academy's Samuel Goldwyn Theater, before the screening of Frank Borzage's Humoresque.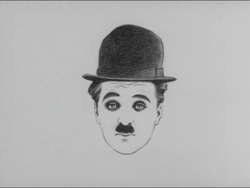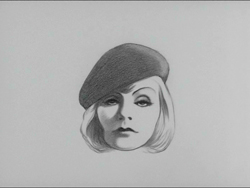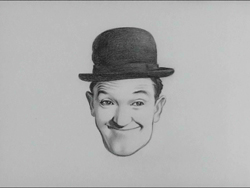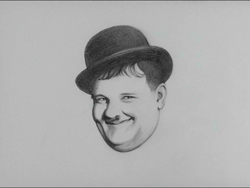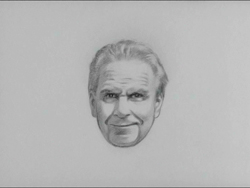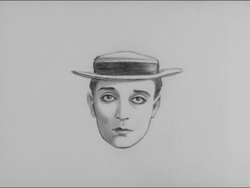 (Copyright: Richard Williams)
---


John Canemaker (2008)

John Canemaker, l'animatore indipendente premio Oscar 2006 e premio Jean Mitry alle Giornate 2007, ha realizzato la nuova sigla del nostro festival. Si tratta di 35 secondi in bianco e nero e a colori che sono anche un omaggio a tre pionieri del cinema d'animazione muto: vediamo infatti la mano dell'artista disegnare su un foglio nero Fantoche, il personaggio creato proprio cento anni fa da Emile Cohl; il fantoccio si trasforma nel colorato Little Nemo di Winsor McCay che piroetta e saluta il pubblico per poi cedere il posto al gatto Felix; il celebre felino di Otto Messmer ha avuto una bella idea e per questo sorride soddisfatto mettendo in mostra quattro denti aguzzi. L'idea? Usare la coda come un lazo per acchiappare il logo delle Giornate e trascinarlo in campo.
Dopo il trasferimento su pellicola la sigla, definita "una gemma assoluta" dallo studioso di animazione Russell Merritt che l'ha visionata in anteprima mentre era in visita alla Cineteca el Friuli, sarà proiettata esclusivamente al Verdi, dove sarà di volta in volta accompagnata dai pianisti delle Giornate: "Faranno meraviglie", ha detto il direttore David Robinson.
Academy Award-winning independent animator, animation historian, author, teacher and lecturer John Canemaker, who was a recipient of the Giornate's 2007 Jean Mitry Award, has created a new animated trailer for the festival.
This 35-second film, in b&w and colour, is also a tribute to three pioneers of silent animation. First we see the artist's hand draw Fantoche on a black sheet of paper. This character, created just 100 years ago by Emile Cohl, then changes into Winsor McCay's colourful Little Nemo, who pirouettes and bows to the audience, to be replaced in turn by Felix the Cat. Otto Messmer's famous feline has an idea, which makes him grin in satisfaction, showing four pointed teeth. The idea? To use his tail as a lasso, to rope the Giornate logo, and drag it onscreen.
Film historian Russell Merritt was able to see it recently while visiting the Cineteca del Friuli, and immediately wrote to the filmmaker: "We watched it again and again, oohing and aahing. It's an absolute gem! I hope I don't have to choose my favorite moment: Felix giving his toothy wink or Fantoche's burst of exuberance."
The animated trailer will be transferred to film and shown exclusively at the Verdi, with live musical accompaniment: "Our pianists will do wonders," said festival director David Robinson.