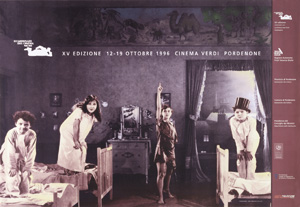 15th Pordenone Silent Film Festival, 13-19 Oct. 1996
PROGRAMMA/FESTIVAL FEATURES

Retrospettive/Retrospectives
Nella terra dei Soviet, 1918-1924/In the land of the Soviets, 1918-1924
A Kiss for Herbert Brenon
Nuove imprese di Max Davidson/Max Davidson: More Gravy
Olympia 100
Gregory La Cava, animatore/Gregory La Cava, Animator
Dinamismo magiaro/Magyar Dynamism
Carte Blanche all'UCLA/UCLA Film and Television Archive Presents

George Méliès: i ritrovamenti del 1996/ George Méliès, 1996 Vintage
Nuovi restauri/Fresh from the Archives
Omaggio a William K. Everson/ William K. Everson: A Tribute
Omaggio a Lev Kuleshov/A Tribute to Lev Kuleshov
Il progetto Janet Gaynor/The Janet Gaynor Project
Ricordo di Blanche Sweet/Blanche Sweet Remembered
Good Night, Silents...
Eventi musicali/Musical Events
- PETER PAN (Herbert Brenon, 1924). Musica originale di/Original music by Phil Carli
eseguita dalla/performed by Flower City Society Orchestra.
In collaborazione con/In cooperation with Slovenska Kinoteka.
- DAS INDISCHE GRABMAL, TEIL 1: DIE SENDUNG DES JOGHI, TEIL II: DER TIGER
VON ESCHNAPUR (dir. Joe May, 1921; sceneggiatura di/script by Thea von Harbou,
Fritz Lang). Accompagnamento per pianoforte di/Piano accompaniment by Aljoscha
Zimmermann.
- BEAU GESTE (Herbert Brenon, 1926). Musiche scritte da Bruno Cesselli eseguite dalla
ZerOrchestra/Music written by Bruno Cesselli and performed by ZerOrchestra.
Mostra/Exhibition
- La grafica cinematografca in Ungheria, 1910-1925 / Hungarian Cinema Graphics 1910-1925, a cura di/by David Robinson in collaborazione con il/in cooperation with Magyar Filmintézet
Pubblicazioni/Publications
- I Want to See This Annie Mattygraph: A Cartoon History of the Coming of the Movies
Voglio vedere quest'Annie Matografo: Le origini del cinema nei disegni umoristici
dell'epoca di/by Stephen Bottomore
- Griffithiana 57-58 (ottobre 1996)
FilmFair (1)