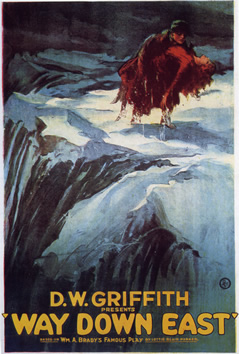 WAY DOWN EAST (Agonia sui ghiacci) (D.W. Griffith, Inc.,US 1920)
Regia/dir: D.W. Griffith; cast: Lillian Gish, Richard Barthelmess; 35mm, 11,100 ft., 148' (20 fps), imbibito/tinted, The Museum of Modern Art, New York. Didascalie in inglese / English intertitles.

Prima mondiale del nuovo accompagnamento musicale creato per le Giornate del Cinema Muto da Donald Sosin (tastiere) con canzoni eseguite da Joanna Seaton. / World premiere of a new live musical score created for Le Giornate del Cinema Muto by Donald Sosin (keyboard), with songs sung by Joanna Seaton.

" Uno dei più bei capolavori dello schermo internazionale … Lillian Gish … è dotata di una potenza drammatica straordinaria … vi sono delle scene in cui la sua arte commuove fino al pianto." (La Rivista Cinematografica, n. 17, 1927)
Scheda completa nel catalogo delle Giornate 2006 (pdf, 4,2 Mb). / For complete programme note, download the Giornate 2006 catalogue (pdf, 4,2 Mb).