Addio, Susan!
Una tristissima notizia ci ha raggiunto dagli Stati Uniti: Susan Dalton, amica e storica collaboratrice del festival, è morta sabato 30 novembre 2013. Aveva 69 anni e da 35 era l'amatissima compagna dello storico Paul Spehr. Esperta di catalogazione e preservazione, era stata a lungo responsabile dei Preservation and Archival Projects, National Center for Film and Video Preservation dell'American Film Institute. Senza di lei non avremmo mai potuto realizzare la retrospettiva "Sulla via di Hollywood" che nel 1988 contribuì a lanciare internazionalmente le Giornate.
We were all very sad when we read this grieving note from Paul Spehr:
"Susan Dalton, my companion, best friend an wife died Saturday, November 30th. She did well through surgery but the pneumonia which had plagued her for the past year flared and though she resisted stubbornly, she could not survive. We have shared 35 wonderful and exciting years together and enjoyed the fellowship of so many of you who will read this. I know that she would appreciate your thoughts and concerns and good wishes – as do I."
Susan was one of the earliest friends of the Giornate. Without her, we would have never been able to do the "before Hollywood" programme that launched Pordenone's international reputation in 1988.
---
Hollywood rende omaggio all'animatore Richard Williams (e alle Giornate)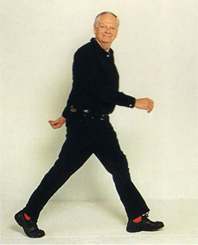 L'Academy of Motion Picture Arts and Sciences sta allestendo una mostra in onore del maestro dell'animazione Richard Williams. La mostra – che sarà inaugurata il prossimo 4 ottobre a Beverly Hills, presso l'Academy Grand Lobby Gallery, e sarà visitabile fino al 22 dicembre – è suddivisa in 12 "zone", una delle quali è completamente dedicata ai disegni originali eseguiti dall'artista nel 2010 per la sigla delle Giornate.

Hollywood honours Richard Williams (and the Giornate)
The Academy of Motion Picture Arts and Sciences is mounting an exhibition in honour of Richard Williams, master of animation. There are 12 "zones" in the exhibition. One of these "zones" is entirely dedicated to the original artwork for his 2010 Giornate trailer. The exhibition will open Friday Oct. 4 in the Academy Grand Lobby Gallery, Beverly Hills, and will be on view through Dec. 22, 2013.



---